Peaceful setting with beautiful garden
Tyn y Cwm 'Small house in the Valley' Holiday Home
Bird watching heaven in tranquil Mid-Wales
As spring comes in, nesting has gone up a  notch. The Pied Flycatchers are back, apparently in good numbers and 5 nests have been started in my nest boxes. A total of 16 nests are now on the go, with 5 having eggs, mainly Blue Tits, but also a Sparrow. A first in any of my boxes. We have had a large number of sparrows around the front of the house for some years, nesting in the roof space. After some work blocking the roof off I put up 3 Sparrow Terrace boxes with 3 nests in each, and one is being used with 5 eggs so far. The Sparrows are around the barns with new sites it appears.
Heard the Cuckoo last weekend, always a relief. Found a Dunnock nest in the garden in a privet bush with 2 young in it.
A bit worried about Hedgie, didn't see him for a week, then 7am Wednesday morning there he is outside the back door, so close I almost fell over him. While I got some food he disappeared again, only to turn up 15 minutes later and happily ate his food.
Been a good week, swallows back on 16th and Pied flycatchers on 18th. In fact have seen many of both since the first sighting. Two Blue Tits have started building nests and I think a sparrow is building one in a nest box in the garden. A first for us, although the purpose built sparrow boxes put up on the house are not being used yet.
There was a nice find in the week when I finally checked out what the dogs were sniffing at in the wood and discovered a hedgehog den under a pile of leaves, 100 yards up in the wood. Later on I confirmed that it was our hedgie, the daytime one eyed daytime hedgehog. He has taken to calling around at the kitchen door, after being fed up in the top garden.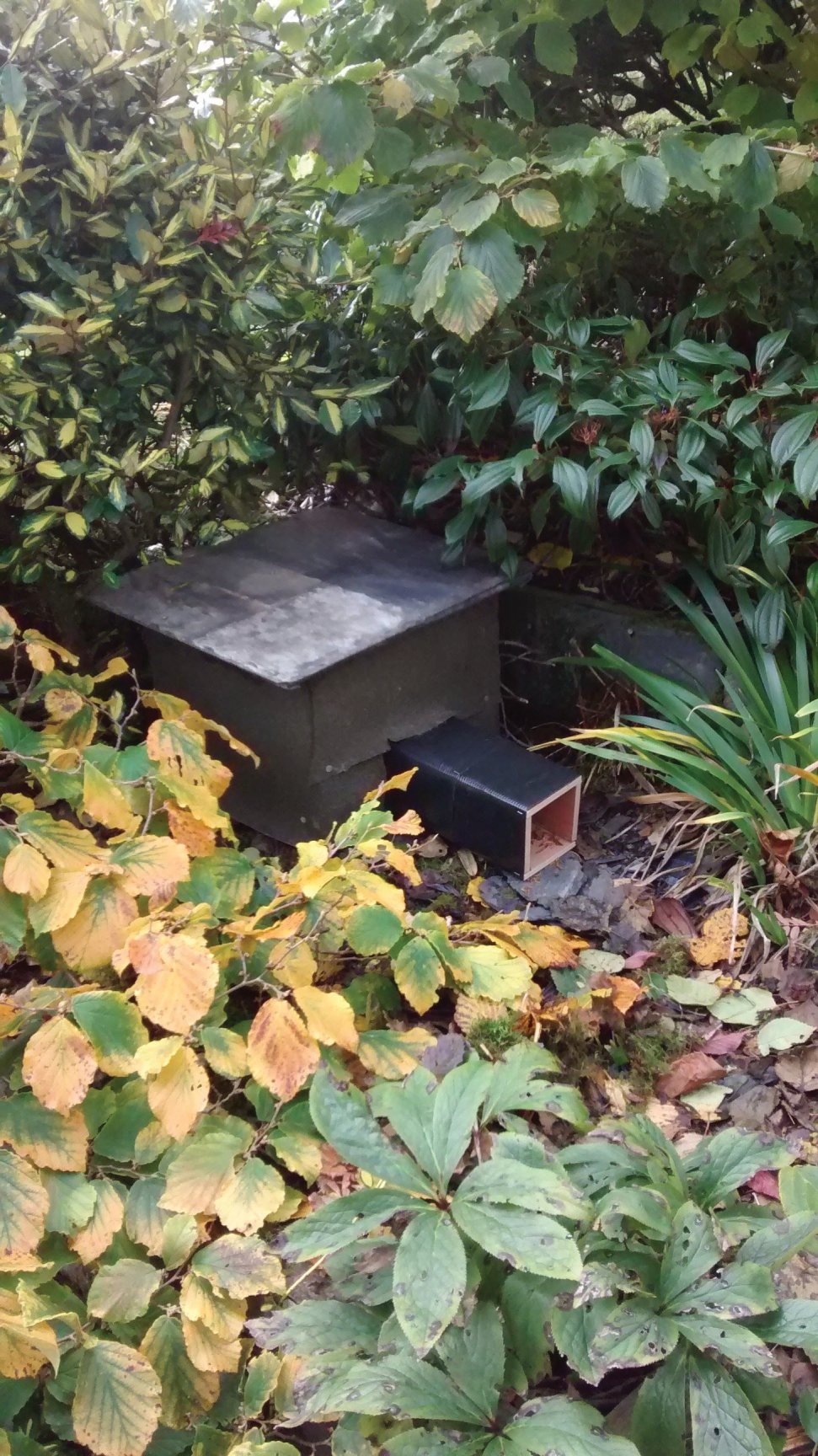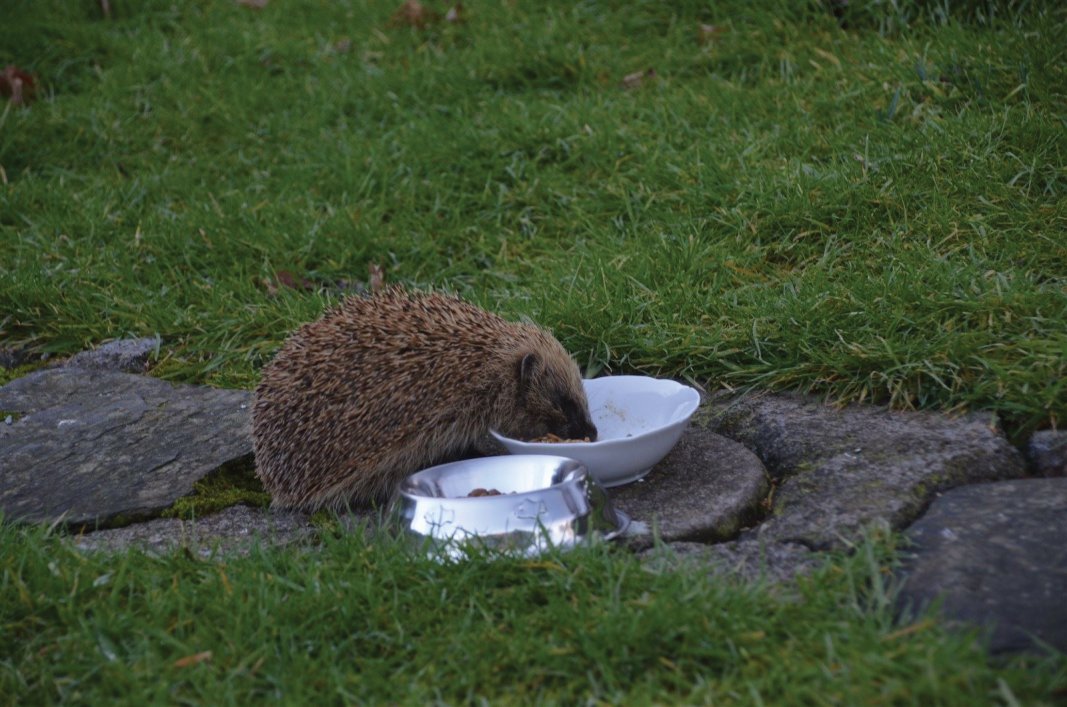 Last September when our daytime hedgehog mate turned up, it was suggested I make a hedgehog box. Having done so, I was advised by my grand daughter that it wasn't up to the task, so a second one was made which was acceptable.
It was unused through the winter, but we were still really pleased when hedgie showed up mid February, still sticking to his daytime visits. on reasonable days he turns up looking for his food, although one day it was 7.30am.
Yesterday a friend visited and I noticed her dog paying attention to the hedgehog home, taking a look, there inside was the hedgehog, was I pleased. This afternoon when he was down having a snack, I thought I would check the box and found the hedgehog was still inside, so we have two, at least.
After so long never seeing any, how wonderful to have two around.
The frogs, having been active for some time finally have produced some frogspawn, and now can't seem to stop. Great tits looking in one of the nest boxes. The three new sparrow boxes are up and in the process of making some swift boxes, hopefully a few will be successful.
Lovely article in the Times in December. There weekend walk  started at our village pub 'The Trout' then a 6 1/2 mile around our local area, including a slight detour to the viewpoint of Cribyn Bedw that is directly above us, where the writer describes our valley thus 'Far below lay a side valley that might have been modelled by Disney, so perfect were the proportions  of its fields, hedges, farm, chapel and forested slopes.'
We always thought it beautiful here, so it's nice someone else thought the same.
Driving into our yard on Tuesday afternoon this week were surprised to find a hedgehog wondering about on the gravel.
As they are not meant to be out in the daytime, put it into a box, feed it, then released it in the evening in our top garden. Next afternoon there it was going around in the field next to ours. Boxed it up, feed it and called for advice.
Noticed it only has one eye, but otherwise seemed fine, certainly no issues getting around. Advised to release it in evening. This we did and then two days later it's back in the garden, just after lunch time checking out under the bird feeders. Later it's in the field and then back under the feeders in the garden. Same happens yesterday. Put meal worms and cat food down which it seems to enjoy. 
Spoke to farmer and a hedgehog was going through his barn last weekend in the daytime. Got to be same one.
However to get to ours from the farmers barn it had to travel across small stream, no bridges. The to get from garden into field and back, went through hedge(easy) and wire fencing with very small mesh(not easy). Checked the wire fence no gaps and about 3 feet high, so how is it doing it. Wondered if it is blind hence daytime activity but certainly gets around. To see it going through leaves and grass checking for food has been a joy.
Sorry it's been a while since the last blog. Been a busy summer with glorious sunshine and produce galore.
   The best two Garden Open days we have ever had, 105 came in June, then 120 in August, over £2000 raised, a great result.
    Thankfully the river next to the lower garden helped to keep it watered when no rain fell, but the lack of rain caused problems in the house, being on our own spring water supply we found it stopped flowing meaning bottled water for drinking and buckets of water for flushing toilets. Had some rain now and back to normal.
   A wonderful year in the fruit garden, strawberries, redcurrants and huge blueberries earlier and now apples, blackberries and bullaces (wild plums) by the score. The hedgerows are full of berries and acorns galore.
   Then about a week ago the butterflies turned up in large numbers, mainly peacock, tortoiseshell and painted lady. There have been too many cabbage white earlier on, the cabbage show the results of the caterpillars left by them.

Lots has been happening, the cuckoo's are going non stop, often two can be heard. The spotted flycatcher has returned only to find its normal nest site has been occupied by house martins which appear to be back in large numbers and making their nests frantically. The spotted flycatcher were seen checking out various other possible sites, even one got trapped in the greenhouse, thankfully I noticed it and released it.
The Pied Wagtails in the summer house fledged safely at the end of last week. The Blue Tits are hatching and the first of the Pied Flycatchers started on the 27th. 17 nest boxes have had eggs laid in them. Others had nests started but not completed and one nest has been built over the last two days, hopefully eggs to follow.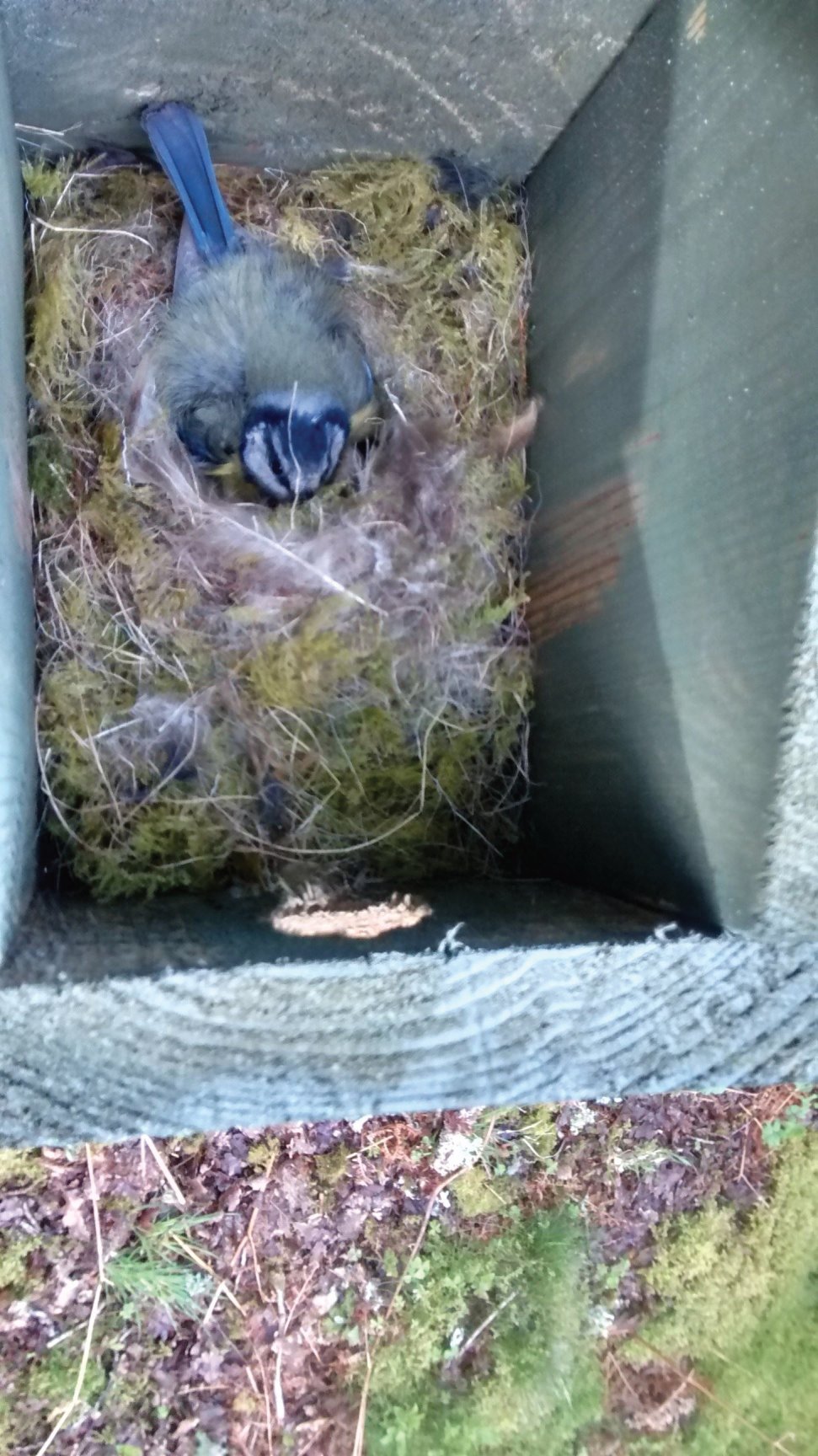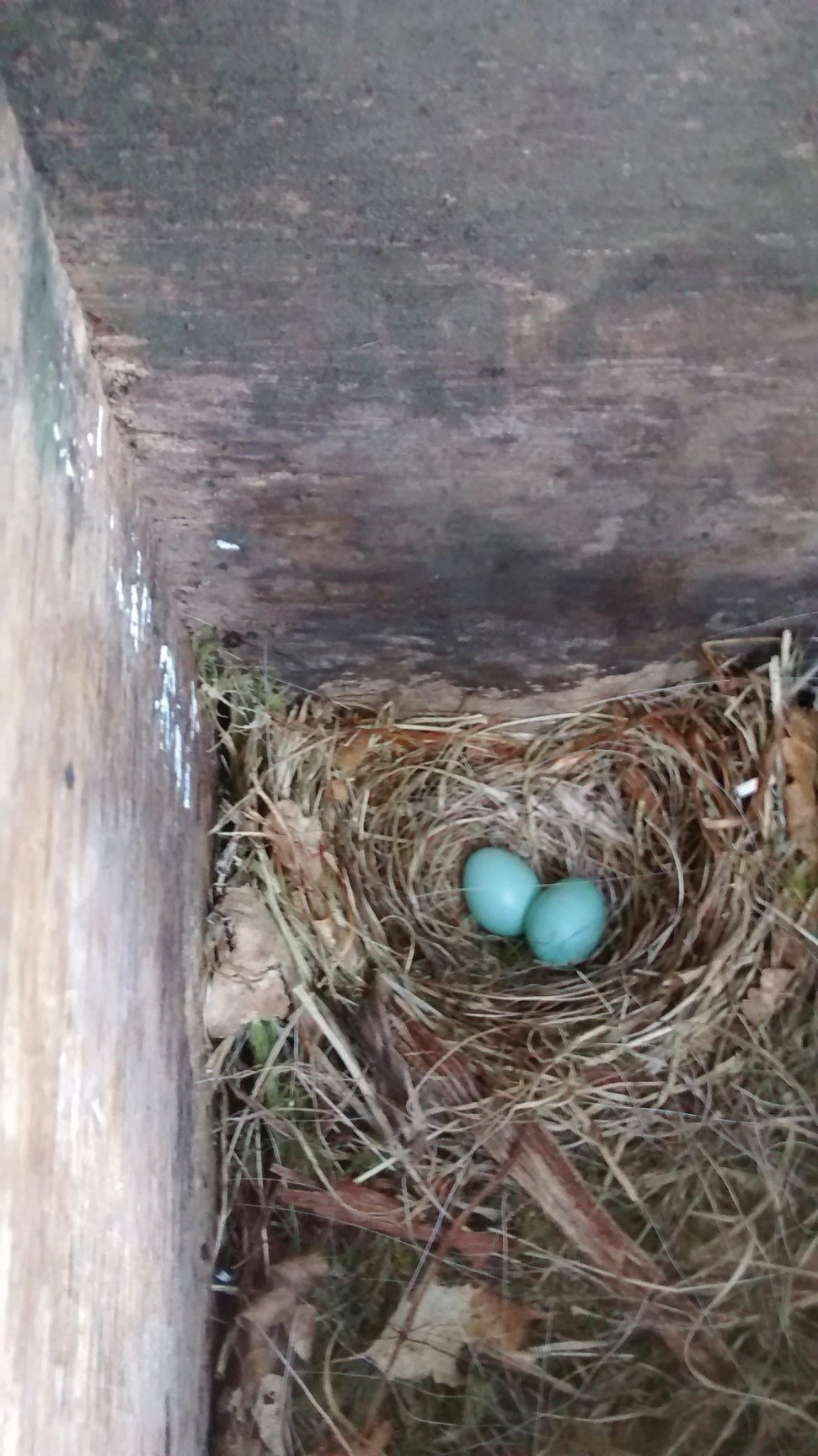 Lovely weather has started lots of activity in the nest boxes. Checked my 29 nest boxes and 21 have some form of use.
11 have eggs, 7 Blue tits, 2 Pied Flycatcher, a Great Tit and Pied Wagtail.
Two nests have sitters so complete. First sign today of the Pied Flycatchers blue eggs with 1 and 2 laid in  2 nests.
A couple of nests seem to have had nothing added in the last few days, others have what seem complete nests constructed in a week, and a couple of  others started in the last two days.
 Could be a record number of nests for me, although it must be admitted there are more boxes than before.
In the heat of the weekend spent a little time sat down in the woodland garden, seeing two dippers regularly and also treecreepers. A pair of Blue Tits looked into two nest boxes there, but no nest building yet.
Only slight disappointment so far is only one sighting of a Redstart so far this year. Had a Redstart nest over the past few years, and I see last year they didn't start building until 14th May, so still hope.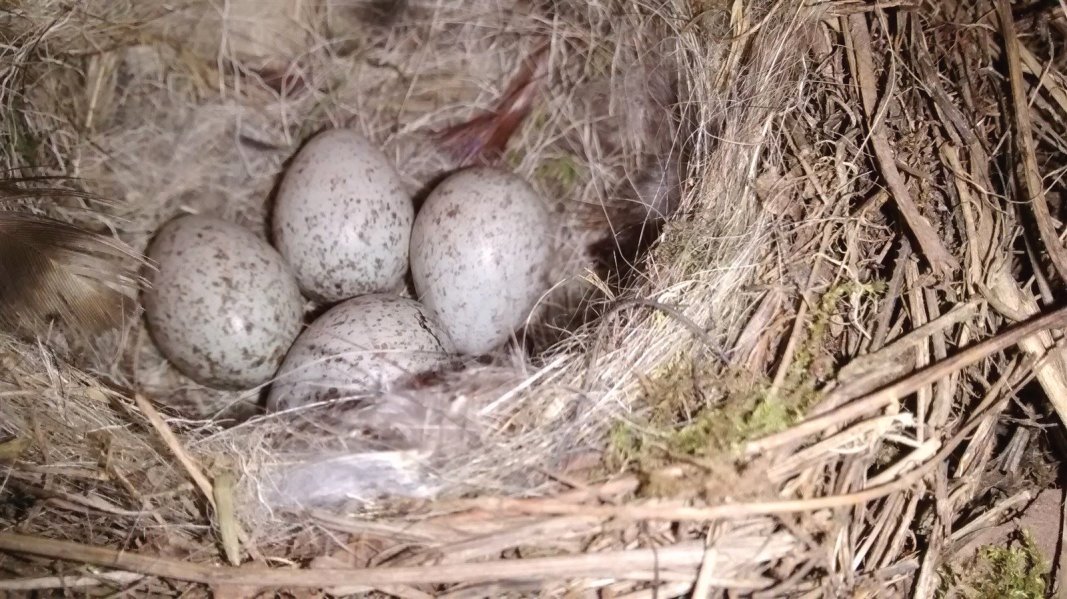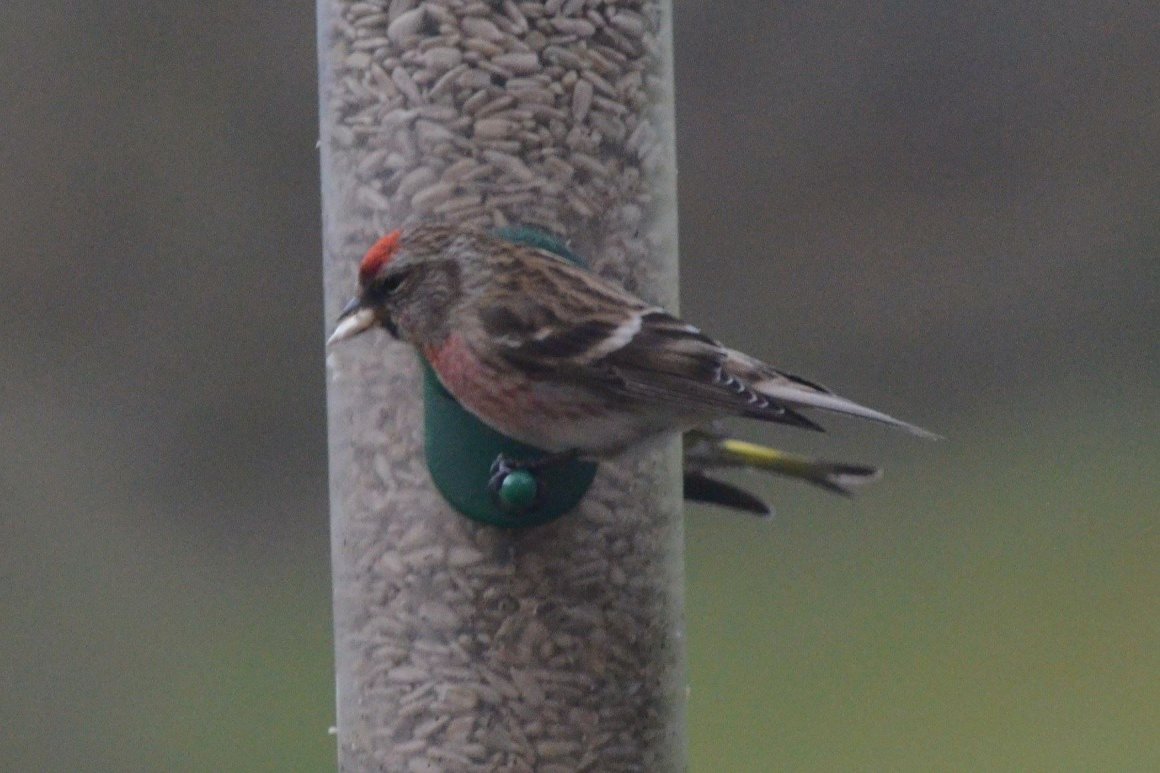 First eggs have been laid, 4 Blue tit eggs in a nest box and 4 Pied Wagtails in a nest built on a ledge in the summer house. Checked nest boxes and it seems 7 Pied Flycatcher nests have started, although Blue Tit nests still low this year so far. Whilst sat down watching a nest box a Tawny Owl popped out of a hole in the tree next to me. Not sure who was more surprised at seeing the other. Heard a Cuckoo this morning, always a joy to know they have returned, also heard and saw a Wood warbler in the wood.
Plenty of birds on the feeders including Redpolls.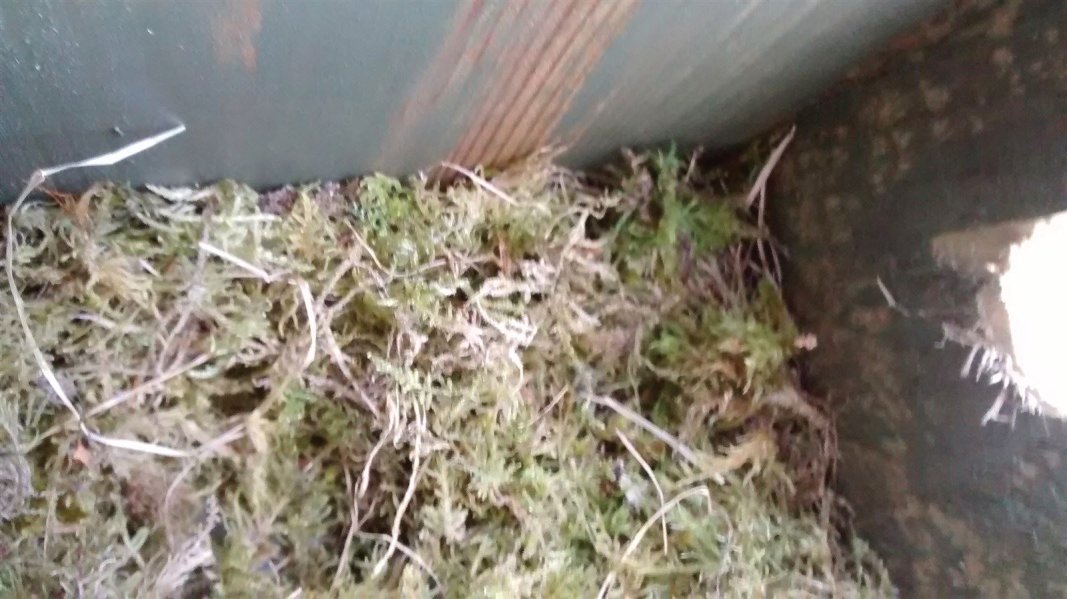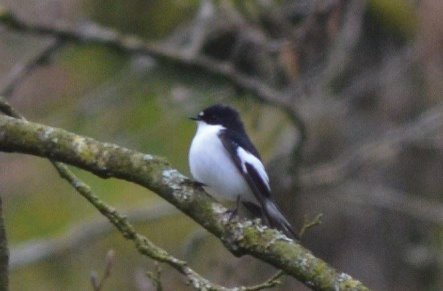 It's that great time of year when the migrants return, and with the sunshine over the last few days all seems fine.

Swallows seen here first,14th April, Pied Flycatcher the next day then Redstart later in week. No Cuckoo heard yet, hopefully soon. Nests started being made, Blue Tits so far, but Pied Flycatcher was looking in box today. Pied Wagtail making nest in summer house.

Daffs are lovely, snakeshead fritillary's looking good too..





0

/