Peaceful setting with beautiful garden
Tyn y Cwm 'Small house in the Valley' Holiday Home
Bird watching heaven in tranquil Mid-Wales
Click Here to Add a Title
Click this text to start editing. This image and text block is great for descriptions about your business, products or services. Double-click the image on the right to change it. You can also stack more of these blocks to describe items with imagery.
Sorry for the long wait for a new blog. Spring is moving on and there has been quite a lot of activity in the bird boxes. 42 now are up, 24 have had nests started and 13, all tits, have commenced egg laying with today seeing the first chicks hatched. Five Pied Flycatcher nests have started. Hoping for a late rush of Flycatcher nests like last year when 4 came after 8th May. rather worryingly for the garden, we have seen a Roe deer in the field adjoining us. Farmer Paul has been reporting several sightings locally over the last month. Plenty of hedgehog sightings most nights.
All four Pied Flycatchers have started laying their blue eggs, sadly no further nests started. However all bar one of the Blue tits have started laying eggs in ten of the nests now, only one not started. Also a Great tit has started laying too.
Seems something has taken the young Robins, but have seen another nest with five eggs in the wall alongside the stream on the new barns we acquired 17 months back.
Have been for some walks in Loftty Bard wood where the bluebells are simply stunning.
Have had two hard frosts this week which have caused damage to some plants, potato leaves blackened despite being covered and some lovely azalea flowers are ruined. 
Been a good week, with Saturday bringing the distinctive sound of the Wood warbler in its correct place in the wood. Have tried to upload a short video I made of it singing, without success.
As hoped the Pied Flycatchers have started nesting with 4 of the 5 new nests being theirs, and now a total of 17 started nests. Six have eggs also, all being Blue Tit.
After giving our cocker spaniel, Blackberry, a hair cut, put some of his hair out to see if the birds might want some for nesting and within minutes one started helping itself to some. A couple of days later I found 3 nests had dog hair amongst their contents.
 Also have found a robins nest in the bank in the upper garden I cleared some brambles from. The three eggs have hatched. I'm putting some snowdrops and primroses into the bank, quite a large area, hoping next spring it will be really looking good.
  With the rain this week all the plants are picking up and really looking glorious with the new growth and fresh colours.
The oak before the ash saying has been consistently won by the oak every year we've been here, and normally very easily. However this year I think it's a draw, as the oak leaves started to open I realised high up in the ash they were also opening.
The warm weather has really brought on the flowers with the bulbs in the main quite stunning.
As for the birds, have heard the cuckoo a few more times this week. A few more nests have started in my boxes, twelve so far. A Great Tit in the apple tree in the bottom garden, probably ten blue tit nests and an unknown on the bridge.
No Pied Flycatchers yet, but sadly a dead male Flycatcher was in one of the blue tit nests. I removed it, pausing to reflect on its efforts to fly back all the way from Africa only to die a few days later. Having checked my notes I noticed that they normally start their nests in the last week in April, so hopefully things will start going next week, but the number of nests are encouraging. 

The sunny weather seems to have started the nesting season in earnest. Nine of my boxes have nests started, eight appear to be Blue Tits, not sure about the other, but it consists of dry grass and feathers, have seen a House sparrow near to it.
The Dunnocks in the privet bush have hatched, all three.
On Thursday, 16th, delighted to hear the Cuckoo calling whilst on our early walk. Having checked it's the earliest they have arrived, but only by one day.
All sorts happened today, firstly on my morning walk through the wood saw a Redstart followed by 3 or 4 Pied Flycatchers. Having checked, it's the earliest date I have ever seen them return for spring. The Pied Flycatcher were already looking into a hole high up an oak tree.
Getting home saw an unusual bee type insect in the conservatory. Managed to get it out, then later saw two more down in the garden. Having looked it up they were Dark Edged Fly Bees, reasonably common this time of year in southern Britain. Not sure if we seen then before.
Then whilst in the woodland garden saw a Dunnock getting very agitated. I had a quick look in a nearby privet bush and saw its nest with 3 blue eggs there. It's the third year they have chosen a privet bush for their nest, but close to ground really. 

When we had the barns tidied up, we had a stable door put in the upper doorway of one of the upper doorways, keeping the top door open through the summer as the swallows nest in there. Thinking they are due to return soon I tied open the top door yesterday, then today we saw the first swallow. It's the earliest date they have returned to us, matching 2011.      
Got some of the seats out of storage to treat or wash ready for the new season.
Delighted to finally have some snakes head fritillaries in flower, we have had problems with slugs or just  dying off.
Still no nests in our nest boxes started yet, but got to be soon.                                           
In these uncertain times it's lovely to watch how nature carries on as normal. Frogspawn arrived on 6th March in the largest of our ponds below the natural spring which feeds them. With all the rain through the winter they have been overflowing quite often, but now all is okay with this dry spell. This one pool is crammed with frogspawn, yet nothing in the other pools. The birds seem to be pairing up but no nest building yet in the boxes up in the wood, normally it's into April before they start. Chris has seen a sparrow carrying a feather, but they declined to use my sparrow terrace put up last year. Being concerned the entrance holes were too small, I have double checked but they are the 32mm suggested as the correct size.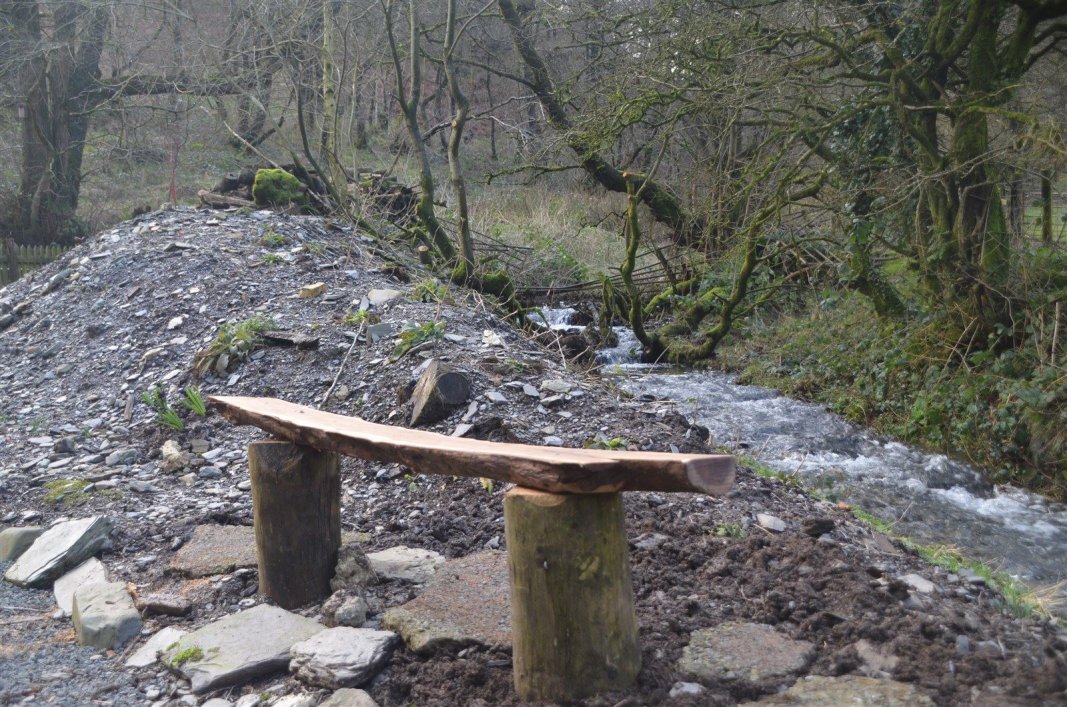 Have put up two new nest boxes by the smaller stream on the end of our barns and have seen a pair of blue tits checking one out, so hopeful. Have made a new seat out of some yew we had from the trees we cut down back in 2002.
Daffs are looking great this year, hopefully the sign of a good garden year. Been trying to catch up on the winter jobs, given the woodland garden a good sort out. Two rambling roses needed tying up, clearing the path, dividing some of the snowdrops, looking really good.Trying to clear some of the bindweed from the bed outside the dining room beside some posts I've replaced. Some seeds sown, and no mice damage on the sweet peas yet.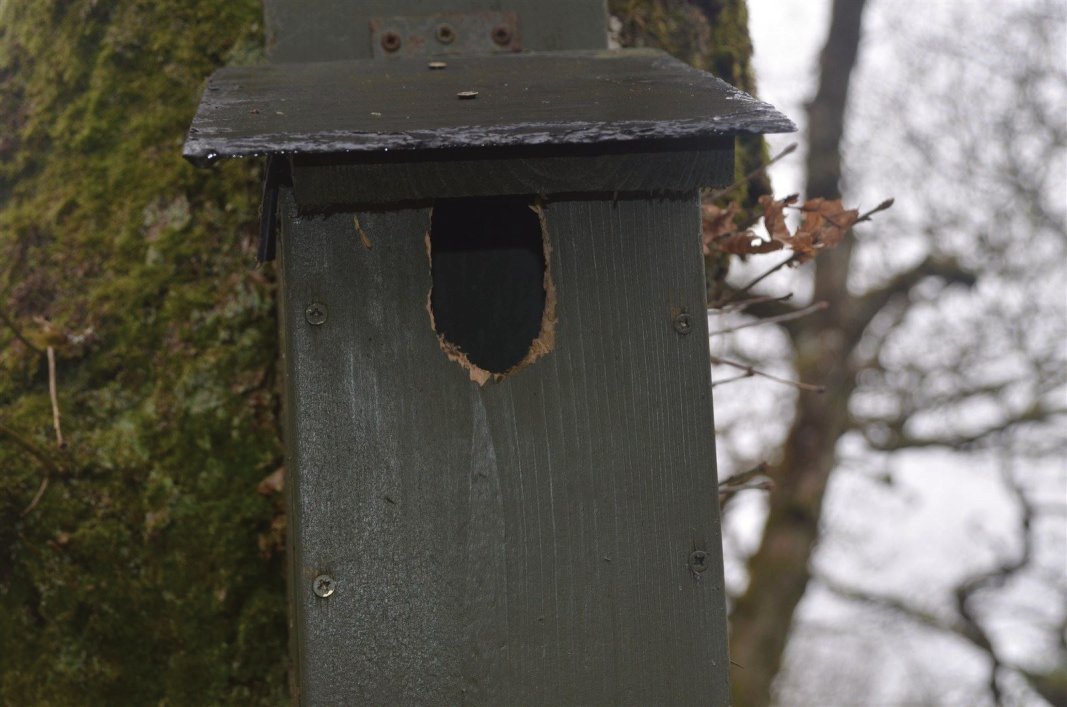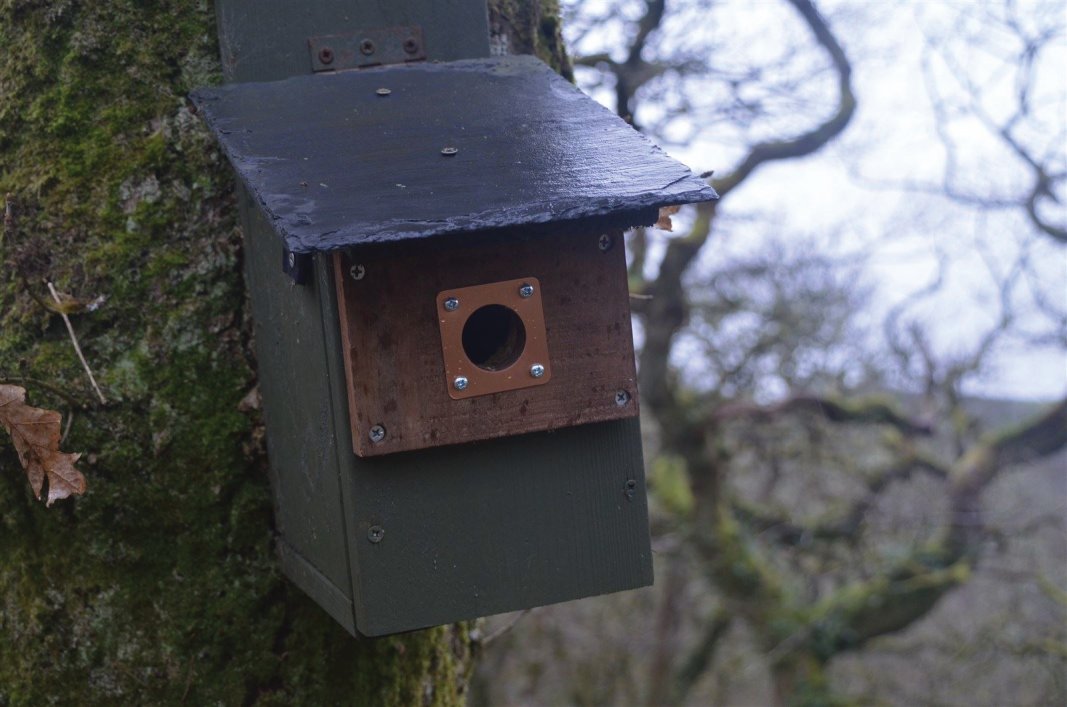 Whilst checking the nest boxes today, phone substantial damage to two of them, whereby the entrance hole has been vastly increased by something.
We blame the woodpeckers, but haven't ever seen them doing it. Cleaned them out in late summer, and there positions are such that they are not visible on my daily walk through the wood so it was a bit of a surprise. Was able to carry out some simple repairs, so hopefully now usable. One other box had a little damage, which looked quite recent, so I'll try and keep a closer watch on it.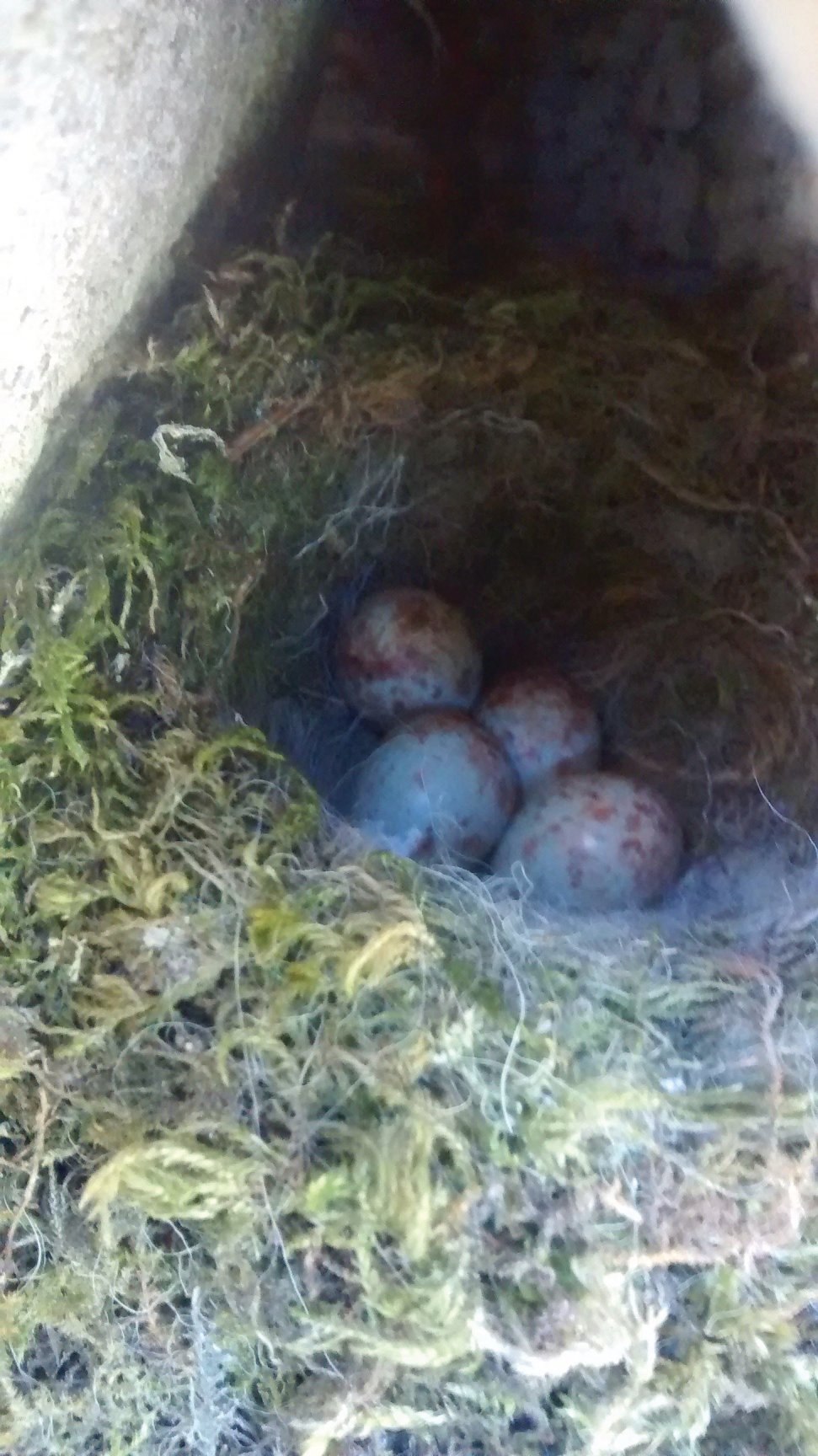 Sorry I haven't updated the blog as often as I normally do during the nesting season. 
All the nest box chicks have fledged, only Blue tits and Pied Flycatchers nested in them. The Blue Tits struggled, with one nest all the chicks died and the others fledged in the midst of a cool and wet week, with the number low to start.
The Pied Flycatchers were all good size broods 7 or 6. After the loss of one nest with the female dead on the first egg, the others all fledged.
Pete, our bird ringer friend, came and checked his numerous boxes and found mixed results with one site almost nil, yet another higher than in recent years, but also Blue Tits struggling in the weather. I have been busy getting our newly acquired barns and land in some order, and have noticed birds in the barns more than usual, finding a Pied Wagtails nest with 5 chicks, a Grey Wagtail(first for us) with 4 eggs and a Spotted Flycatcher with 5 eggs. The Spotted Flycatchers normal ledge by the bathroom being occupied by House Martins.
Found a siskin nest in a rose bush in garden.
The Blue Tits nests have started hatching, and it's delightful watching the parents working their socks off feeding their young. Had six Pied Flycatcher nests with eggs laid, sadly one female was found dead on the single egg. The others are 7 or 6 in number and hopefully all is well with them. Hadn't hatched as of 22nd May. Only Blue Tits and Pied Flycatchers in my nest boxes this year. Lots of other birds very active around, a Redstart all around the barns, but haven't found a nest yet, also Grey Wagtails regularly seen, along with the more usual birds.
Been very busy in the garden, that time of year, plus trying to get the barns into shape and the surrounding land, so long days outside, and say it softly, but could do with a bit of rain.
/