Peaceful setting with beautiful garden
Tyn y Cwm 'Small house in the Valley' Holiday Home
Bird watching heaven in tranquil Mid-Wales
Click Here to Add a Title
Click this text to start editing. This image and text block is great for descriptions about your business, products or services. Double-click the image on the right to change it. You can also stack more of these blocks to describe items with imagery.
Sorry for the long wait for a new blog. Spring is moving on and there has been quite a lot of activity in the bird boxes. 42 now are up, 24 have had nests started and 13, all tits, have commenced egg laying with today seeing the first chicks hatched. Five Pied Flycatcher nests have started. Hoping for a late rush of Flycatcher nests like last year when 4 came after 8th May. rather worryingly for the garden, we have seen a Roe deer in the field adjoining us. Farmer Paul has been reporting several sightings locally over the last month. Plenty of hedgehog sightings most nights.
| | |
| --- | --- |
| Posted on 30 March, 2020 at 15:27 | |
In these uncertain times it's lovely to watch how nature carries on as normal. Frogspawn arrived on 6th March in the largest of our ponds below the natural spring which feeds them. With all the rain through the winter they have been overflowing quite often, but now all is okay with this dry spell. This one pool is crammed with frogspawn, yet nothing in the other pools. The birds seem to be pairing up but no nest building yet in the boxes up in the wood, normally it's into April before they start. Chris has seen a sparrow carrying a feather, but they declined to use my sparrow terrace put up last year. Being concerned the entrance holes were too small, I have double checked but they are the 32mm suggested as the correct size.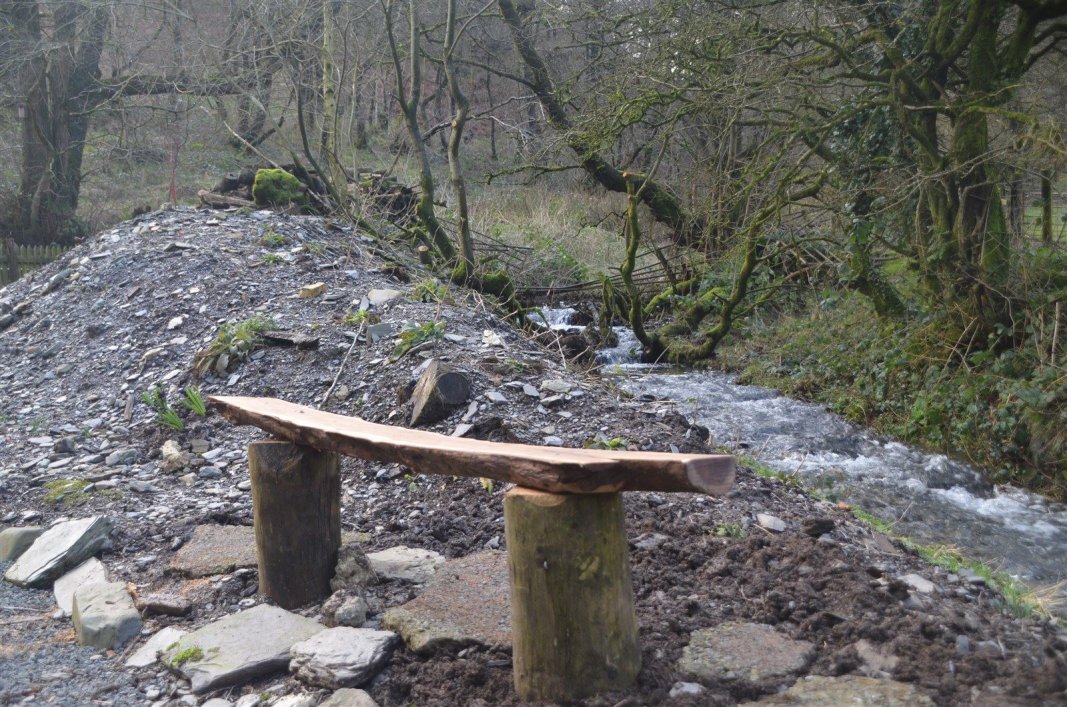 Have put up two new nest boxes by the smaller stream on the end of our barns and have seen a pair of blue tits checking one out, so hopeful. Have made a new seat out of some yew we had from the trees we cut down back in 2002.
Daffs are looking great this year, hopefully the sign of a good garden year. Been trying to catch up on the winter jobs, given the woodland garden a good sort out. Two rambling roses needed tying up, clearing the path, dividing some of the snowdrops, looking really good.Trying to clear some of the bindweed from the bed outside the dining room beside some posts I've replaced. Some seeds sown, and no mice damage on the sweet peas yet.
Categories: Tyn y Cwm
/